As the school year comes to an end, I know many of you are scrambling to keep kids engaged and learning, all while just trying to hold your head above water in the madness that is the end of the year. So I've put together a list of some of my favorite end of the year activities that can be a life ring, helping you stay afloat until summer comes!
*Note: this post may contain affiliate links, which means if you click a link and purchase something, I receive a small commission for sharing the link at no cost to you. This allows me to keep the lights on and continue writing content for my readers.
I fully admit to being a Type A person most of the time. And I also blame a lot of that on my terrible memory. My answer to remembering everything that needs to be done at the end of the year? Checklists. Everything I need to copy, file, organize, clean, and turn in before I leave the building on various checklists. Everything I want to make sure I do with students those last few weeks of school? Assessments? Report cards? End of the year memory books? Checklist. Checklist. Checklist. I keep my various checklists stapled together on my teacher clipboard and check off the tasks as I complete them in the last weeks of school (they're usually not done in order, but that doesn't matter to me). I made this free Editable end of the Year Checklist that you can find in my Free Resource Library after signing up for my newsletter below (there are also a ton of other free teaching resources in there as well).
A fun way to build on that already existing end of the year excitement is to have a countdown until the last day of school. An ABC Countdown is a great way for younger students to review their letters (and/or sounds). The basic idea is that for each of the last 26 days of school, you work your way through the alphabet one letter at a time. For instance, L would be on day 12, so you could pick any word that starts with the letter L. B is for Bubbles (have a "bubble day" where you make bubble solution, learn about the science behind bubbles and blow bubbles outside). You can do something simple, like a Lego building contest, or dress like a Lion, or have a Lemonade party…you get the idea. You can also laminate a countdown to make it dry erase like the Summer countdown below. The ABC Countdown you see below is editable, so you can change any of the things you focus on that day. You can find both of these resources in my End of the Year Activities pack.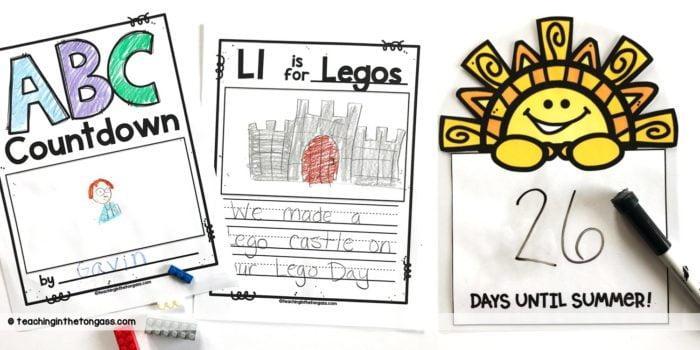 One of my favorite activities to do at the end of the year is to create an Important Book with my class. I start off by reading The Important Book and then I let each student create their own page to add to our Class Important Book. I put their pages in a binder to keep in the classroom library and also send home a completed and stapled version for parents to look at. I made the writing prompt partially editable so you can change what you want students to focus on. You could have them write The Important Thing About (whatever grade level you teach), focus on things that are unique to your classroom, or just general school stuff. And of course, students love to complete these End of the Year Memory Flip Books to take home!
And every year I taught 2nd grade, I had my students write Letters to My Future Self near the end of the year. I put their letters in their school records folder (the one that's kept under lock and key in the office that will go with them as they move all the way through high school, as well as if they move to another district). This year was the year my first 2nd grade students graduated from high school, so I contacted the local high schools and made sure their letters would be pulled from their cumulative folders and given to them (they put them in their diplomas) because I can only imagine their sweet faces when they read them and remembered what their 7 year old minds were like (I remember one student wanted to be a "Pokemon" when he grew up–so cute!). These Future Self Letter templates come in a variety of writing line options so you can choose the ones that work best for your grade level.
And here are a couple of sweet and easy writing crafts that you can do (the writing prompt is editable). I love these simple summer crafts because they are color, cut, paste and done so the focus can be on the writing portion of the activity rather than cutting out templates (if you've ever done a craftivity like that, you know how excruciating it can be). They're also easy to throw up onto a bulletin board (or a clothesline like me). You can find the Lemonade Craft here and the Hot Dog Craft here.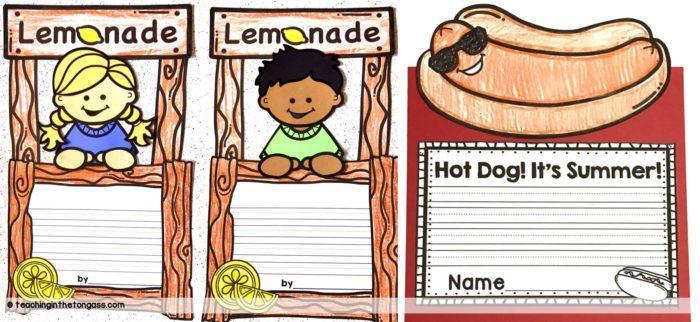 I am 100% not the teacher that spends a small fortune on end of the year gifts for students. I can't be alone on that either. We already spend a ton on our own classrooms, so I don't feel the need to send them home with a ton of junk that'll probably end up in the trash anyway. I like to keep it simple, folks. These painted monster rocks (editable tag here) are just about the cheapest gift I could make, and I know that cute little googley eyed guy will be treasured for awhile. I used these paint markers to draw a smile and tooth (they were a lot easier to use than doing it with a small brush). I love giving away chalk at the end of the year because it's pretty cheap, and you can have your students create a collaborative mural outside! You can find the Chalk Tags in the Free Resource Library here when you sign up for my free newsletter.
Another fun last day of school activity is taking a photo of your student (this is my own kiddo below) with a Last Day of School Poster. The one on the left is made to be more personalized for each student, and the one on the right can be reused for all students in your class (as well as a group photo). Both of these last day signs are editable and you can find them here.
One more last week of school activity I like to do is read a book about Summer vacation (this one by Natasha Wing is one of my favorites) and then have students make some goals for their summer. We finish by creating Summer Reading Goals and I give them a Summer Reading Log that they can bring back to me at the beginning of the year to earn a small prize (I let them choose any book from my classroom library to bring home and keep). You can find both of these here.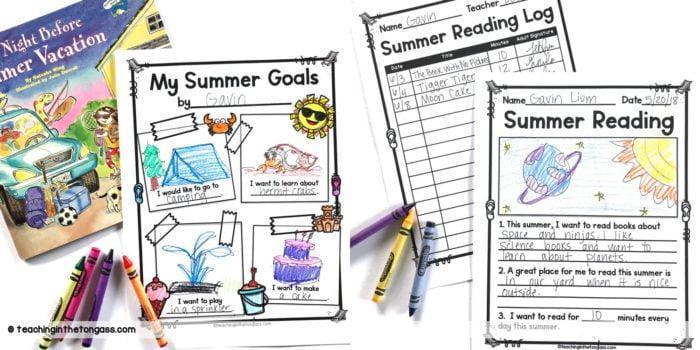 You can find these favorite end of the year read alouds here.
Not ready for the end of the year? Pin for later!