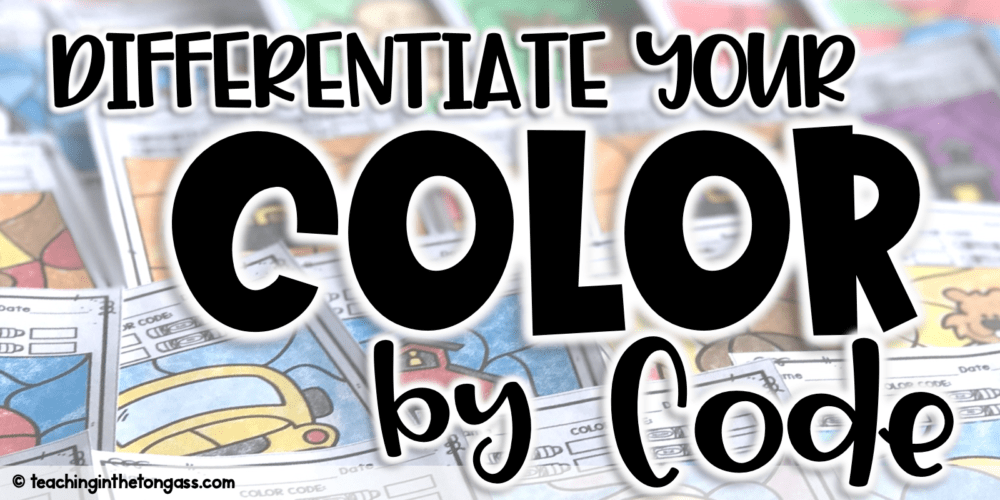 If you've never tried a color by code activities with your students, you might be thinking, "Coloring pages? Yeah, right. We don't have time for coloring." If that's you, I'd like to challenge you to keep reading and to consider that there's more to color by code than simply coloring. Let me explain.
WHAT IS A COLOR BY CODE?
Color by code is an activity where students solve various problems (for literacy or math) and then use the matching color to decide which color to use to color in an area. So, it's essentially just a way to practice a skill you're working on. I've used color by codes for years and have some suggestions on how you can make the most of them, but first, grab your free color by code so you can try it out with your class (it's a crayon design, so you can use it any time of year). It's in the Free Resource Library (along with a few other color by codes).
WHY SHOULD I USE COLOR BY CODES?
After you download the sample, you'll see that the design has spaces that determine which color gets filled in based on the corresponding answer. ALL OF THE TEXT IS EDITABLE. What does that mean for you? It means that you can use it with ANY grade. Fill it in with whatever content area you are working on, and reuse it all though the year. YOU decide what goes in the spaces–perfect for differentiation, if you teach in a split class or even if you change grade levels, multilanguage or even specialists (I've had some music teachers tell me it's great for music notes). They're flexible, never-ending and can be used year after year.
Some benefits of using editable color by code include:
Customizable content: allows you to customize the content to align with their specific curriculum content or standards.
Differentiation: you can create different versions of the color by code activity for different skill levels or learning styles, making it easier to differentiate instruction for your wide range of students.
Reusability: can be edited and reused for future lessons, saving time and resources for you (even if you change grade levels).
Engaging: more engaging for students because they can be tailored to their interests and abilities.
Versatility: can be used for a wide range of subjects and topics, not just limited to math or language arts (music notes, teaching another language, teaching about the five senses, states of matter, etc.).
Self-paced: can be used as a self-paced activity, giving students the opportunity to work independently. These make them excellent fast-finisher or homework activities.
Personalization: allow for personalization, which can help increase student engagement, motivation and understanding of the material (use student names, important places or history where you live, etc.)
Does this all sound great, but you're not sure where to start? Don't worry, I've got you covered with a few suggestions for math and literacy.

WHO CAN USE A COLOR BY CODE?
My favorite part about editable resources is how they can be used with ANY student. They're extremely versatile. I'm a visual learner, so let me show you what the differentiation piece could look like in an average classroom where students are working at various ability levels. Let's take a look at how a single page can be used 6 different ways (there's obviously more, but let's just stick with 6 for demonstration purposes).
Here's an example showing how 3 different student groups at various levels of math understanding can use the same coloring page.
Here's an example showing how 3 different student groups at various levels of literacy understanding can use the same coloring page.
See how versatile and customizable that is? And that's just showing one page, 6 different ways. There are tons of other ways to customize it for your own needs. And of course, because all of the text is editable, you can change the language for your students. This means that you can provide an alternative language option for your ESL learners, as well as use it entirely in one language (this is especially helpful for my teacher friends teaching outside of the U.S.).
WHO SHOULDN'T USE EDITABLE COLOR BY CODES?
These activities aren't for teachers looking for something that's print-and-go ready. They are not an autofill PDF. These editable color by codes were made specifically for the teacher that wants more control over what students are practicing. If you've ever downloaded a resource and were frustrated with wanting to tweak it and make it work for you and you couldn't modify it to be EXACTLY what you needed, this is your answer. These pages were intentionally developed to NOT be just print and go, and will require prep work in the beginning to make the most of them. You know your students better than anyone, and the editable flexibility allows you to utilize that power.

WHEN IS A GOOD TIME TO USE COLOR BY CODES?
You can use color by codes any time of year, as an independent, partner or whole group activity. They're also perfect as:
Supplement to your math or literacy programs
Center activities
End of unit review
Fun Friday
Free Choice time
Indoor recess
Substitute binder
Early finisher folder
Homework
Open house
Transition times
Vacation work
You can decide to focus on math, writing, reading, spelling words, sight words…really whatever you are currently working on with students. I hope this helps you get started and gives you some ideas on how to use color by code activities in your classroom.
Use code COLOR1 to get $1 off your purchase.