It's official. I saw a red-breasted robin hopping around in the grass, which to me, signifies that it's definitely Spring. I am D-O-N-E with the snow and soooo ready for sunshine and all the freshness that comes with this time of year (a.k.a. decluttering my house and Spring cleaning). And because I know you might also be busy with your own Spring cleaning, I've collected a handful of Spring activities for kids that you can use in your classroom so that's one less thing to think about!
When students return from Spring Break, I like the idea of having a little time to share. You could have them sit in a circle right after coming in and share what they each did during break. Some kids go away for Spring Break, but many kids do not. Whether they went to Hawaii or played puzzles with their friends when it was raining outside, make a point to really encourage them so they can really write about something they remember. Lots of kids can't recall what they did and need a brainstorming session in order to think of what they did, so writing topics on the whiteboard is really helpful in getting more responses. After brainstorming a list, you can ask students to pair-share something they did during their own Spring Break. My favorite part of this writing activity is that you can read their responses and get to know a little bit more about your students and take a peek into their outside of school life. You can get this Spring Break Writing Prompt here.
Another fun Spring activity you can do with your class are Editable Strip Puzzles. You cut them up on the lines and students have to put them in order. The best part about these Strip Puzzles? They're editable, so you can have students practice putting numbers in order from 1-10, counting up or down by 10's starting at any number, solving equations, fraction order, or even incorporating literacy by using them for vocabulary or spelling words. The best part? You can have students with different ability levels working with the same picture, just different skill sets.
And of course no Spring is complete without some Spring Math activities! One of my favorite ways to practice greater than and less than (inequalities) is by playing math games. In this game, students partner up, draw a number card, move the symbol and then read the inequality ("9 is less than 34") and write it on the recording sheet. Another fun froggy themed activity is hopping "up" on a number line to add (these centers are also editable so you can change the numbers). You can see what else is included with the Spring Centers.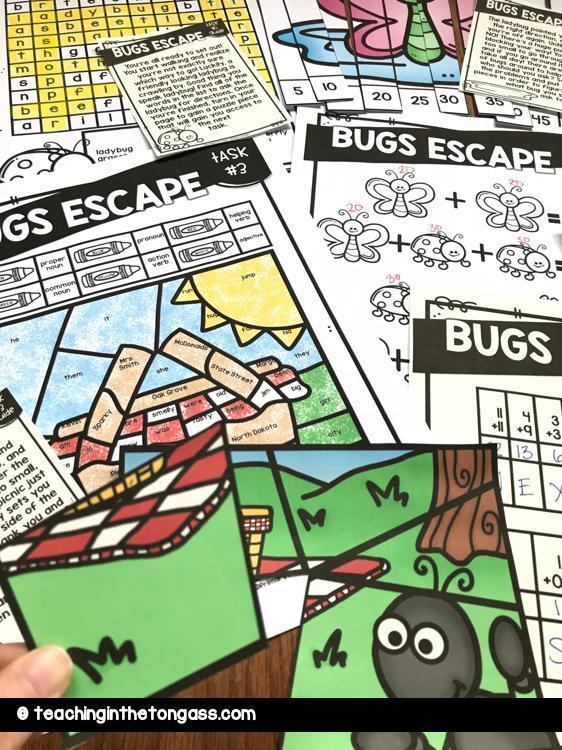 Have you seen these Editable Escape Rooms?! You can edit the tasks to fit what you're already learning in your classroom and you can differentiate so you have different ability levels working on different tasks.
There are five different editable tasks, and as groups complete each task, they earn a puzzle piece and move on to the next task. Each of the five tasks comes with a little story to explain what is happening and "set the stage" to keep students engaged.
When students have finished all five tasks, they can put together the puzzle to "escape" the game and earn a certificate. This picnic themed escape room is perfect for Spring and can really be used in March, April or May. You can find the Bugs Escape Room in the bundle of all of the Holiday Escape Rooms.
If you teach first grade or higher, these giant paper flowers make a great art activity and would be a beautiful addition to your Spring bulletin board. You can watch the full tutorial video here (I recommend making a couple of them first so you get the hang of it and can focus on helping your students when they're making theirs).
Another fun Spring activity you can do with your class is directed drawing. I love using directed drawings because even though students are all drawing the same thing, they all end up with beautifully unique art when they're finished. This Frog Directed Drawing comes with optional calendar pages, but you may decide you just want to do a directed drawing each month instead. It comes as a PowerPoint file with printable drawing and writing pages, and you can display the steps one at a time on your screen, or you could draw along with your students on the whiteboard as you go. You can download the Directed Drawing Bundle here.
And I don't know about you, but Spring really seems like the best time to teach life cycles. I was never brave enough to tackle trying to hatch chicken eggs in the classroom, but butterflies were something the students and I looked forward to every year. The cool thing about these Writing Crafts is that the prompts are editable, so you could use them for scientific based writing, poetry, creative writing or even writing about what happened in a book (side note: I love the book Interrupting Chicken).
I made these Color by Book Monthly Reading Log pages that would be perfect for keeping track of reading at home (you could also use them at school).
The basic idea is that every time a student reads a book, they color an image. They could scribble a color on top, or you could let them use true colors and actually color the images. It's like a fun little reward after reading, and it's easy for those primary kids to do independently. You can download the Color by Book Reading Log here.
And last but not least, I compiled a list of my favorite Spring books for kids. You can click on any of the books to see them on Amazon (as well as a few other Spring read aloud favorites).
So that's it! I hope you were able to get some fun Spring ideas to do with your class! Please feel free to share what you do with your own students to celebrate Spring in the comments below, I'd love to hear from you.
Not ready for Spring? No worries! Pin for later: