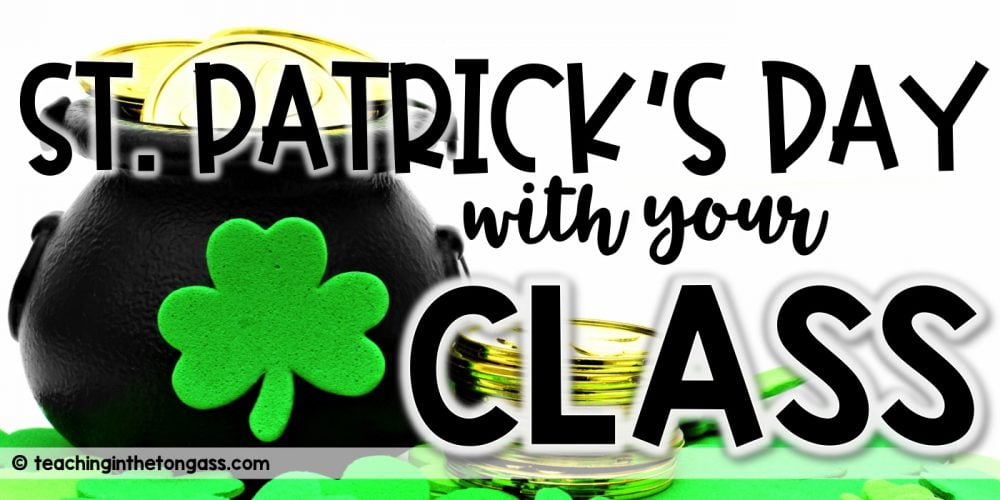 It's almost that time! I've rounded up some fun St. Patrick's Day activities for the classroom and hope you can find some to use with your own class!
A fun option for celebrating St.Patrick's Day with your class is to implement these Lucky Charms Digital Rewards. Students earn a reward of your choice by working on behavior goals of your choice. Each time they do something right, they get a piece added…when the picture is complete, they earn the reward! You can get it in the Free Resource Library. Sign up below:
An easy St. Patrick's Day Snack you can double as a little treat for your students is…Lucky Charms! I am all about making things easy, and not having to cook or dip cookies in green stuff or whatever. Cereal is easy, and fortunately for me (and you), there just so happens to be a leprechaun themed cereal. I made these little treat bags you can easily staple to the top of some plastic baggies and BAM. You're a hero that looks like your life is put together (even if it's a lot more chaotic than it seems, like mine).
Lucky Charms is also great for graphing, so I created this freebie you can use to add a little yummy fun to your math block this March. Students can either work together or independently to sort and tally and then graph a small container (little cups would work, too) of the cereal. I've also included a parent letter asking for cereal donations in case that is helpful to you. You can grab both the free St. Patrick's Day treat tags and the Lucky Charms Math in my Free Resource Library here.
And of course, what St.Patrick's Day would be complete without a leprechaun trap?! This is always a favorite and memorable activity, whether students complete leprechaun traps in the classroom or at home. Basically, kids use trash and their creative minds to test out different traps they think up, all along they're making mistakes and improving. Essentially, a leprechaun trap is the perfect STEM activity! I put together some editable writing leprechaun trap blueprint plan pages and printable leprechaun trap pieces (these are really handy if you're pressed for time or want students to focus on the simple machine aspect of their trap), along with editable family letters if you'd prefer to send this as homework. You can read more about the Leprechaun Trap Kit here.
Another easy and fun activity you can do is color by code. These St. Patrick's Day Color by Code pages are editable, which means you can change the numbers in each area to whatever you want. You can label them with anything from 5+2 to equivalent fractions, it's totally up to you what to have your students work on. You can find the St. Patrick's Day coloring pages here.
I also made up some Silly Leprechaun Names that would be fun to do with your students while they're having snack or getting in line. You could also send a copy home for students to do with their family members. You can grab the free Leprechaun Names printable in the Free Resource Library .
And what St. Patrick's Day would be complete without some sort of craft? This Leprechaun Writing Craft is just about the easiest thing ever (color, cut, glue–no craftivity template pieces to trace) and the writing part is editable, which means you can decide what your students write about rather than me having some ridiculous prompt you wouldn't use anyway. This would be great as a writing extension for a St. Patrick's Day book (I have book suggestions lower down in this post) or you can make it more generic like, "If I Were a Leprechaun." These also make super quick bulletin board displays that don't require a lot of work to gain that cute factor (again, I'm all about minimal prep work with maximizing the pizzaz factor). You can find the editable writing prompt craft here.
Another quick activity you can do with your class that is fairly cheap is using gold coins (either plastic or chocolate). In the game (think "Minute to Win It" style) Lucky Unicorn, students can try to stack as many gold coins on a partner's forehead as they can in a minute. You can also do just a basic "Leprechaun" coin toss or stand on a chair and try to drop coins inside a hat "Leprechaun Hat Drop" with some small black felt hats (I found mine at a local craft shop). The plastic shamrock necklaces have the perfect size bead to use for games and manipulatives as well. If you can, try to buy supplies after the holiday when they are 80% off (I'm super cheap and a planner…so that's what I do!). Whatever you do, just remember to keep it simple and they'll have fun!
Editable St. Patrick's Day Number Puzzles are another super easy activity that work for any elementary grade level. These are also editable, so you can add equations or letters for whatever your students need practice with, and you can make multiple options for the various levels in your class. This means students can be working with the same image, but have different tasks at the bottom (some might be working on putting numbers in order from 0-10, another adding 10's from any number, and another working on addition. Differentiation that can't be easily seen by students. Yessssss. You can find the puzzles here.
And lastly, if you're looking for St.Patrick's Day Math and Literacy centers, I've got you covered. These 14 centers are jam-packed with a variety of St. Patrick's Day themed math and literacy activities that are engaging and purposeful! Many of the activities are editable, which means you can use them to extend what you are already working on! You can find them here.
I compiled a list of my all time favorite St. Patrick's Day books for your reference. You can click on any of the books in the image below to see them here.
So that's it! I hope you were able to find some helpful St. Patrick's Day ideas and activities to do with your class. Feel free to share in a comment below what you do with your students–I'd love to hear from you.