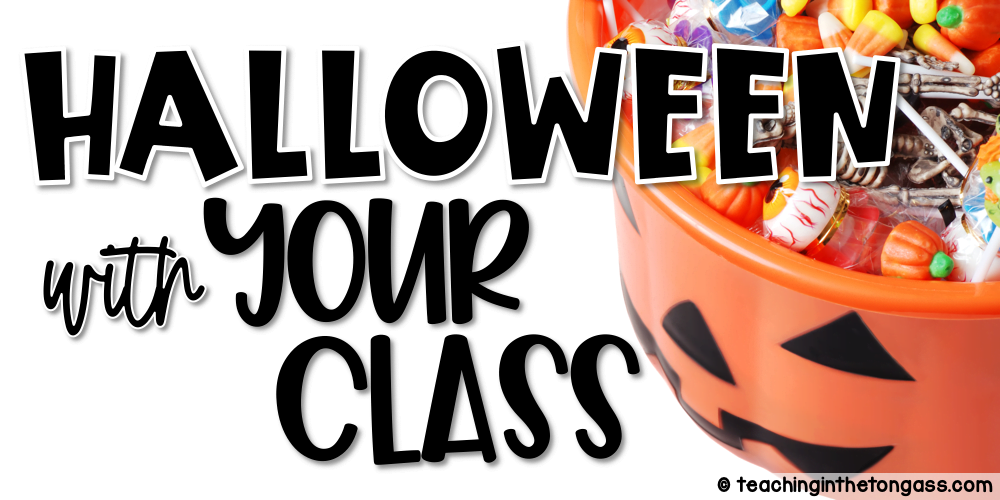 It's the time of year that everything "pumpkin spice" turns up. Like it or not, it's here! So, I thought I'd get a head start and share some of my favorite Halloween read-alouds, Halloween activities and some tips and tricks I've learned over the last few years that might help the day go a little smoother! If you don't celebrate holidays in the classroom for whatever reason (hey, I've been there myself!), feel free to skip this post and I promise not to have hard feelings 😉
My absolute favorite thing in October is taking my kids to the local haunted houses we have in our town. People are so generous with their time and money creating these special little worlds and I so appreciate them. And if your kids are anything like my own, they'll love this traditional and versatile design a haunted house craft and writing activity. This is a great option if you're looking for a simple color, cut and paste craft (also fun to laminate and use velcro to create a reusable haunted house kids can build). It also includes a digital haunted house you can build in Google Slides (and print if you want). Am I crazy for haunted houses? Yes, yes I am. You can find this one here.
These little skeleton friends look so darn CUTE. I have done Q-tip skeletons since my first year teaching and after using a Sharpie-drawn skull template for all of those years, I decided to make it a little more presentable and share it with you. I recommend that you ask a parent volunteer at home to cut up the q-tip pieces in advance (q-tips go flying all about when you cut and your hand will begin to cramp up pretty quickly if you try to do the entire class set by yourself). You could also ask parents to send in a handful of Q-tips each to make it a little easier as well (even better if they can cut them ahead of time!). You can grab the FREE qtip skeleton template in my Resource Library here.

For the younger crowd, the book Five Little Pumpkins is always a hit. There are about a bajillion different versions of the book, but they're all just about the same rhyme. Kids adore "Five Little Pumpkins" because it's like a Halloween jam they can sing and act out. The bouncy rhythm and the suspense of the pumpkins rolling away keeps them hooked, and the spooky-cute vibe makes it a holiday hit. You can find companion activities for 5 Little Pumpkins here.
If you've never done a directed drawing activity with your class, it's basically a step by step guided art lesson. Each step of the drawing is broken down to make it simpler for students. I especially love directed drawings because every single piece is so unique and students really beam with pride as they progress through the drawing. Here's a little Halloween Directed Drawing activity to get your month started. You can try it out with your class and let me know if they enjoy it! Sign up for my weekly newsletter here and you can download it in the Free Resource Library.
This classroom favorite, the haunted house for sale writing and directed drawing project, is a fantastic addition to your Halloween festivities. Kids get to let their imaginations run wild, dreaming up ghostly characters, creepy rooms, and thrilling descriptions. It's a chance for them to create a unique drawing to match their description, and you can display their creations with an easy bulletin board. You can find it here.
One of my favorite things to do when I celebrate Halloween in the classroom is to use "spooky" music whenever I can. Whether it's a cue to start cleaning up, during an activity or just to play quietly in the background while we read Halloween books with reading buddies, it's nice to change things up a bit and add some FUN to our routine! I LOVE to use Kidz Bop Halloween because I know there won't be any language I have to worry about (if you have Prime, you can stream it FREE). My favorite thing about Kidz Bop songs are that you can count on them to be totally G rated and not worry about something inappropriate popping up in the lyrics…a MUST for the classroom.
If you do centers with your students, you likely have learned the value of Target mini erasers as math manipulatives. We don't have a Target where I live, so any time I travel, I of course raid the Dollar Spot. I made most of these centers editable so they can be differentiated to fit your students needs (i.e. the words can be changed to whatever sound spelling you're working on). You can find both of these Halloween literacy and math center activities here.
If you have a little bit of prep time before, you can plan a fun Halloween escape room for your students. These ones are editable and are the perfect activity for adding some fun while still learning and focusing on what you've been doing in class. You can find the Halloween Escape Room here.
Another super easy and quick art project is oil pastel and watercolor pumpkins! I like to cut up the watercolor paper into quarters so kids have a few pieces to draw on. You can really use any color oil pastel, but I love to use the white one because it really makes those other colors pop. I recommend making a few painting examples of your own and printing some photos of pumpkins (and with different angles so they can decide how to draw them). You can search "pumpkin photos" on Google images and find a few different ones to use with your class. If you have the time and money, nothing beats the real thing! You could even bring in a variety of sizes and types (gourds have a lot of color and fun textures and are fun to draw!).
If you're looking for something with a little more rigor, these Editable Halloween Color by Code activities are the bomb.com. You can use them for literacy (think: vowel sounds, word families, sight words, etc) AND math (addition, subtraction, multiplication, division, fractions, etc.). You fill the spaces in with whatever your class is working on and students complete the problems before coloring in (you can do "silly" colors so they can't predict the answers for each colored area). They are always a huge hit! You can find my Halloween coloring pages here. You can also try out a sample version of a candy corn coloring page here.
And on that note, another option that you can do that's less "Halloween" is to focus on Candy Corn instead. This is perfect for students that don't celebrate holidays because it's not actually Halloween themed, yet it's still loads of fun. This unit includes all kinds of candy corn activities from writing to math and science. My favorite activities are the candy corn science experiment and the candy corn craft. The candy corn experiment is about the easiest science prep I do all year, with the most engaged students. Maybe it has something to do with the fact that it's candy (a favorite food) and science (a favorite subject)? You can find the Candy Corn Capades activities here.
A different fun activity I LOVE to do actually comes after the big day, but you'll need to prepare for it by sending a note home ahead of time so it's good to be ready for it. I've included a parent letter in this freebie, so that's one less thing to worry about. Basically, kids save their candy until the next day of school (alternatively you can just get some candy to do this) and then collect data on the type of candy they got while trick-or-treating. Lots of parents have no problem making sure the candy isn't all eaten on Halloween, but I always keep a bag of surplus candy all year for this occasion in case someone doesn't remember or just doesn't have any. Bonus: This means I have chocolate on hand pretty much at all times, which means teacher friends stop by and visit regularly and we can catch up over some much needed Reese's cups. You can find the FREE Candy Graphing kit here.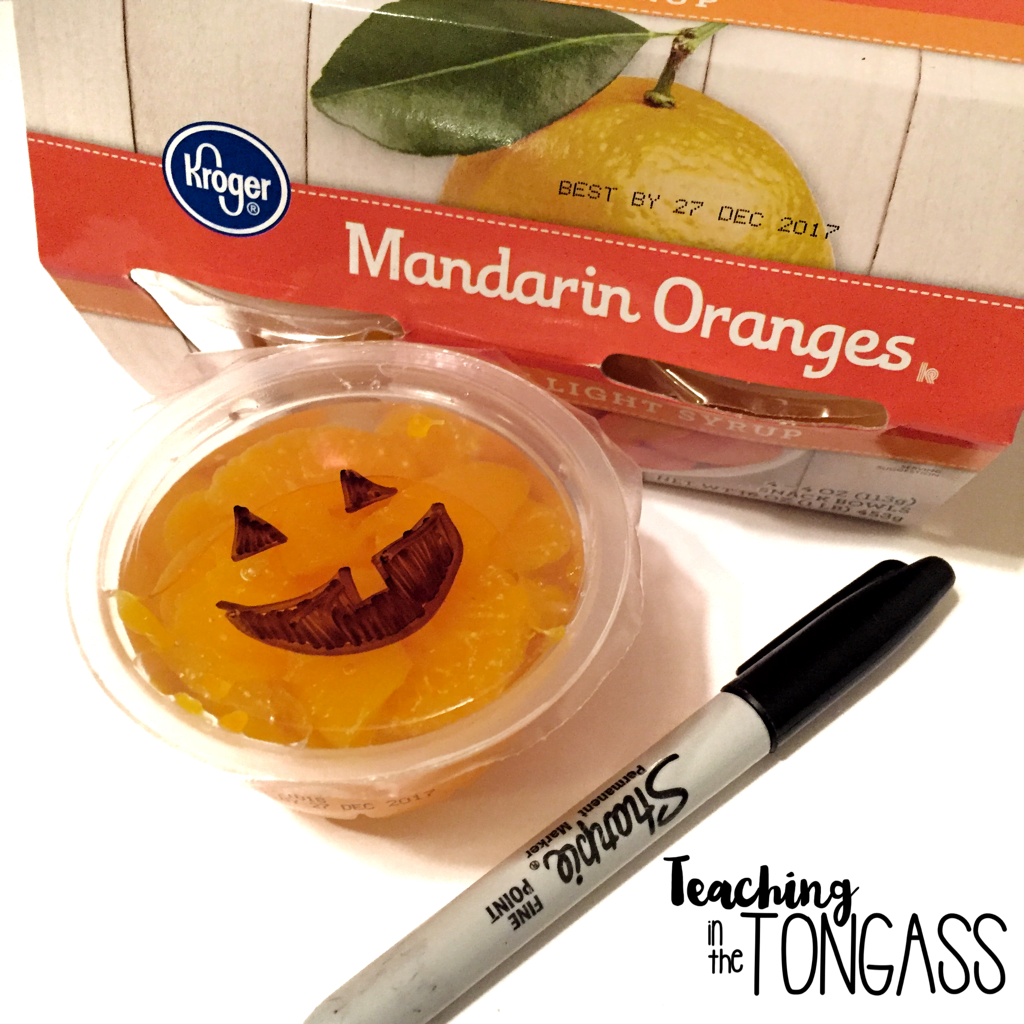 Jack-O-Lantern fruit cups have been a class hit for many years and parents are even sending them in now! It has to be because they are so easy to make! Just draw a bunch of different jack-o-lantern faces on fruit cups and you're done! It has to be the easiest, low-prep Halloween snack you can make, which I'm all about (i.e. I have a lot of other things going on, so baking cupcakes is not on my agenda).
I also made these fun little Halloween treat bag printable tags that are really easy to put together (we're making them for my son's preschool class this year) and they are perfect for a fun little snack to send home with your kiddos. I bought ghost "Peeps" to make a s'mores treat bag and a few other snacks to make a "Witch Brew" (gummy worms-rat tail, boston baked beans-rat eyes, chocolate covered raisins-shriveled lizard feet, chocolate eyeballs-crow eyes, candy corn-old witch nails).
Click here to grab the printable treat tags. I've included two versions (Witch's Brew and Spooky S'mores) for you to choose from.
Like most teachers, I begin a month/holiday/theme by pulling out my collection of favorite read-alouds. My October tub happens to be pretty large (not as large as Christmas/Winter…but that's another post coming soon…). I am a book hoarder and I'm not ashamed to admit it. I peruse the used book store children's section on a regular basis, make good use of my Amazon Prime account on the regular and use Scholastic book points to grow my collection. These titles are the select few that I absolutely love, and a few are new to me this year and will be in the read-aloud rotation from now on. You can click on any of the books to see them here.
I usually only have time for 1 "just for fun" (i.e. not part of our reading program) read-aloud per day, and it's my absolute favorite part of my day when I really do love the book. If a child has never heard that particular story before, I feel so honored and privileged to be the one reading it to them for the first time! I have such wonderful memories of my own teachers reading books that I now love as an adult, and it just reiterates the important part that we should remember to teach children to love books. It's hard to remember sometimes when you're focusing on teaching students how to read that I often forget that there isn't always an innate love of reading in every child. So, here's my reminder (and yours if you need it!).
And before I go, one last idea I want to share with you. Have you heard of being "BOO'ed" by another class? Or maybe it's happened at your house within your neighborhood? The basic concept is it's a modern day chain letter (with a lot less work and tastier). You can do a small treat bag, baked goods, or just a piece of candy if you want. Easy peasy. It's just a fun, little way to celebrate Halloween and share some goodies with friends and family. I've created an easy to use sign, tag and explanation (all in a single page for easy copying). I recommend using bright orange paper (easier to spot the poster in the window).
You can simply click to download the PDF below.
If you might have some students that are allergic to gluten or another ingredient, or maybe your school doesn't allow food treats. It's a wise plan to have some non-food prizes (which you can then take home and give out along with the candy and use any leftover next year). My favorites are the witch fingers because they double as 1-1 matching pointers you can use for guided reading! These all make great prizes to have at home for other trick or treaters as well. You can find the links to all of the other non-food goodies Witch fingers, Vampire teeth, Mustache whistles, Glitter Tattoos, Kazoos, Bugs, Bouncy balls, Bracelets, Sticky hands, Finger flashlights
So that's it! I hope you've found some of these Halloween activities for kids useful! Feel free to drop a comment below if you'd like to share ideas or how any of these things went for you in your classroom.