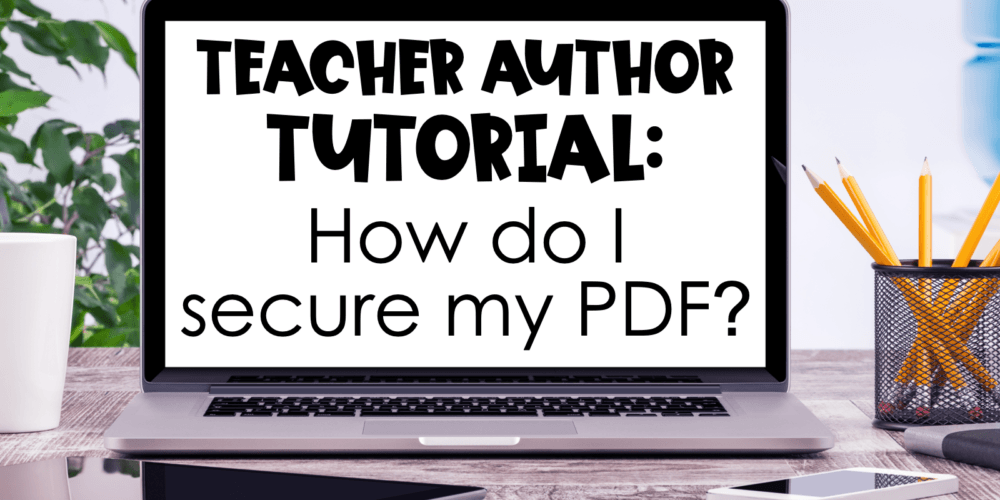 From time to time I see people discussing How to Secure a PDF they create for Teachers Pay Teachers. Everyone that makes resources for TpT has a different way of doing things, but here is a tutorial about how I secure my own files. If you have downloaded ANY clipart (free or paid), you are more than likely (by the clipartist) to do more than change it to a PDF. It's in your best also in your own best interest to make sure people can't delete pages, copy images or text, so you're doing it for yourself as well.
First and foremost, if you don't already create in Powerpoint, and this is your first time reading that you should, TRUST ME. You won't regret moving away from your ol' familiar Word. You can duplicate slides that have the same formatting (copying and pasting in Word doesn't always keep things neat and tidy). It's just easy. I promise.
So, after you create your document (and pat yourself on the back for finishing that beast! hurray!), you need to save it as a PDF. Here's how I do it.
First, go to File–>Save As.
When your save window comes up, check out the lower left corner where it says PDF. Click the dropdown menu. Then click "PDF" and save.
Now, you can open your PDF you just created. If you are creating for Teachers Pay Teachers and you don't have Adobe Pro, YOU NEED TO BUY IT. Simply saving as a PDF does not secure the clipart you downloaded, or even the text you wrote (yes, people out there WILL take advantage of you and copy/paste entire documents–yes, even teachers like you!). Securing the clipart protects it from being stolen (yes, it happens) and if you don't want others taking what you paid for and you respect the time/money/energy of any clipartist, you must do your part in protecting it. As a clipartist and a teacher, I often am amazed when I open a file I download on TpT that isn't secure. If it has my own clipart, I usually go back to the store and notify the seller (yes, I know this is probably annoying and it's extremely embarrassing for both parties, but so is stolen clipart…so….fighting the battle together and crossing my fingers you don't think of me as a you-know-what). If you have ever found your own resources unsecured on a wiki, district page or someone else's blog, you likely know how it feels when your own TOU are disregarded. So, this is where Adobe Pro comes in. Seriously, it's an investment, a tax deductible (yes, here in the US you need to pay taxes on the money you make, no matter the amount–or get audited and go to jail/get fined for tax fraud), and you won't regret it once you do. You can also find the one-time purchase for Adobe Acrobat Pro here (make sure you select either Windows or Mac). So, now that you've taken my advice or someone else's and you've purchased Adobe Pro and are ready to read how to use it, open up your file.
On the left side, you'll see a little icon with pages (thumbnails). Click it and you'll see your pages appear on the left side. Scroll to the bottom of your document (or wherever you want to pop in your credit TOU page). Open up the window that has your EXISTING credit page(s) PDF. You don't need to open the files. I like to arrange my windows so I can see both easily. I have them saved as PDFs in both Landscape and Portrait sizes to use whenever I am working with that dimension. Drag the file icon to the bottom of the Page Thumbnail window until it "pops" into your document.
Now, you're ready to add the ever important security to your document. On the right side, you'll see the option "Tools" with "Protection" and a dropdown menu. Click "More Protection" and then "Security Properties."
Now you should see this window. Make sure you're on the "Protection" tab. Click "Encrypt with a Password" and you'll see a window that looks like this. Change the Printing Allowed option to "High Resolution" and the Changes Allowed to "None" so people won't be able to modify your PDF at all. Type a password in the password box (you should probably type something you will remember or something you use already for your TpT business). Click OK. You'll need to retype the password to confirm it.
Don't let this next window fool you. It says that these things are all "Allowed" only because you haven't SAVED yet. Just click OK.
Now, "File" and "Save." At the very top where your file name is, you should see the word (SECURED). If you don't see that, it's not secured and you probably haven't saved it yet. If you do, congratulations!
Edited to add:
If you want to be able to quickly secure future documents, you can save those security settings and make it even quicker.
Under the Protection menu, click Encrypt–>Manage Security Policies.
Then select the Encrypt with Password option and the Edit option on the top. Create and save your security settings.
From now on, you can just click Encrypt and Encrypt with Password (don't forget to save it though or it won't actually be secure!).
I am not an expert. I don't work for tech support. I'm a teacher, a real actual person and a mom behind this computer screen. So, if something on your computer doesn't look like this post, please be kind and don't come at me like a spider monkey (all jacked up on Mountain Dew). You might leave a comment asking a question, but again, I'm not tech support. So, to sum up…be nice and if you don't find what you're looking for, try my best friend, Mr. Google. He's amazeballs and 99% of the time, he answers my questions.
Find more TpT seller tutorials here.