I wanted to showcase some of my favorite digital tools and resources and Google classroom activities for going digital with your class, so that's what today's blog post is all about. All of these activities can be used in either PowerPoint or Google Slides, on a computer or on an iPad or tablet, whichever you already have.
Digital Classroom Management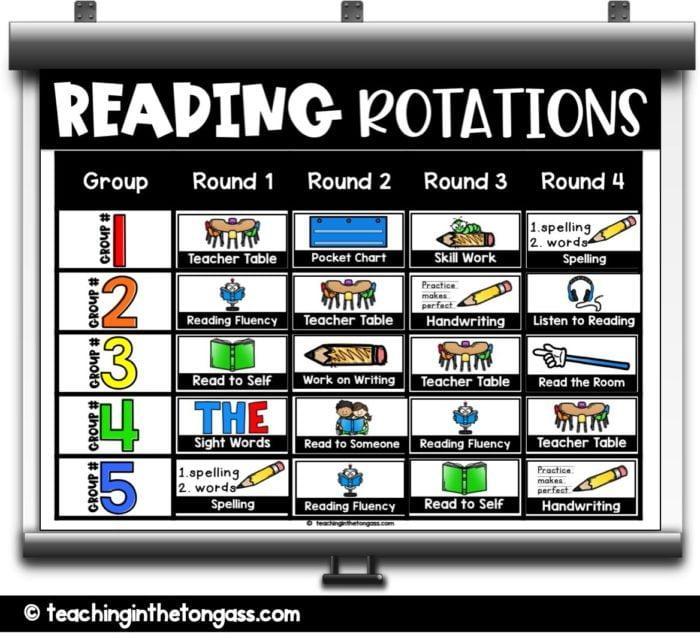 These Digital Center Rotation Charts will revolutionize how you manage your centers. I've included literacy, math and miscellaneous center cards (digital, moveable pieces) to choose from, and the amount of groups and rotations is editable (you can add as many rows and columns as you need). There is also a slide for organizing your groups by number or color (you can also easily add your own graphics–like animals–if you prefer to name your groups something else). You can display the slide that has all the centers on it like this, or each round at a single time with a clean up slide in between (it has countdown timers to make it even easier). The whole thing takes minutes to set up and makes changing out your digital rotation board a breeze.
These Digital Visual Directions take the constant guessing game out of the equation. Just in case, "What do I do next?" isn't your favorite question. This digital resource come with all kinds of different slides to choose from (so you can use them for morning routines, subject areas, after recess, etc.). And they of course come with tons of moveable direction cards and number cards so you can make them really work for your own needs. You can type right on the slide as well.
Raise your hand if you've used a marble jar for improving behavior. Digital Class Rewards are the same concept, but with a digital twist. This set of slides can be used with Google Classroom or Powerpoint, and includes tons of choices, from building a pizza to earn a reward, to filling a popcorn bowl to earn, well I would guess a popcorn party but you could have the goal be whatever you like. You can copy and paste as many of the moveable pieces as you need, so if you want your students to start off with only earning 10 pieces at the beginning of the year, and then later on in the year, your expectations are for 20 pieces, you can do that. You can use them for all kinds of things like perfect attendance, quieting your class down, walking down the hallway perfectly, getting in line quickly, all homework turned in…so many possibilities with this one. I've got a free one you can try with your class to see if you like it!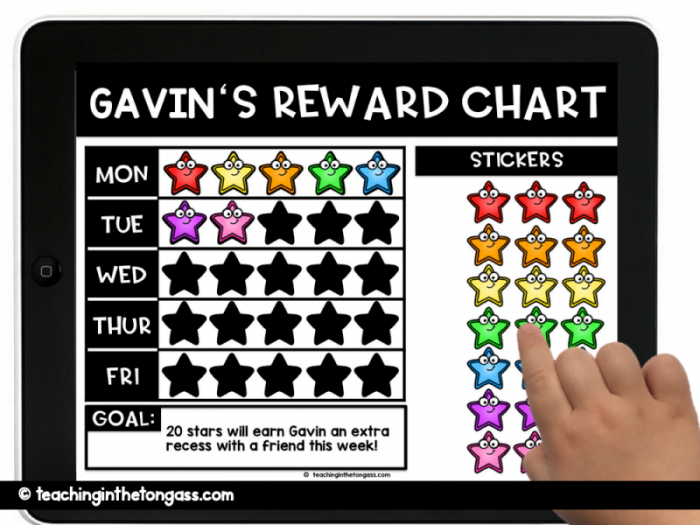 Confession: I don't like sticker charts. I know, I know, I'm terrible. I just can't keep it together enough to a)not lose the stickers that are for the chart and b)remember to actually add them to the little piece of paper chart. Enter the Digital Student Reward Chart. These are really cool for individual students because they also work on tablets (like an iPad) and iPhones. So, if you have a student that is working toward a specific goal, you can use this reward chart to monitor their progress and it can easily go with them throughout the day. Students can move the stars (it also comes with an emoji option) into the table (there are tons of other slide options, so you can do by subject area as well as by day of the week).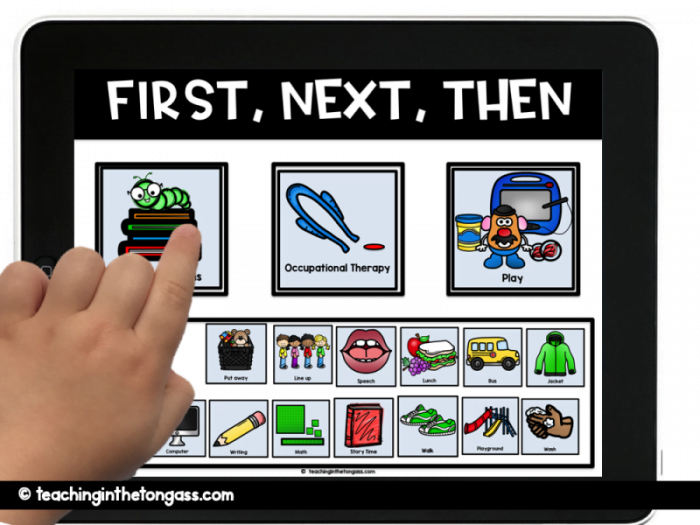 Along the same lines of behavior management, this Digital Visual Schedule is another great tool for individual students. It includes all kinds of slides, like this "First, Next, Then" slide, as well as slides with various times of day (Today, Morning, Afternoon, etc.) and a slide that's just "(Name's) Schedule" if you'd rather make each one even more customized. There are tons of digital moveable icons to choose from (I've included both home and school icons). You can set up a full schedule for the day, or break it up into smaller parts of the day if that works better for your students.
Digital Attendance is a great way to allow students to be a part of the attendance puzzle (in case you often forget to do it!). Students just move their name piece to the picture each day and any name pieces left are absent. Use it on an iPad, display it on a projector screen, or even just on a computer. You could have them do this as they enter in the morning, or you could incorporate it into your morning meeting time. It's up to you and whatever way would work best with your class. The slides include backgrounds for Fall, Winter, Spring and Summer and have editable moveable pieces for each student's name.
Digital Organization and Parent Communication
This Paperless Teacher Planner comes in both landscape and portrait options, and includes everything from Weekly Planning pages to student checklists to your entire year at a glance. All of those essential teacher planning options in 2 formats: paperless or printed! Yes! You can also print any of the pages, so if you want to do a mix of both paperless and printed teacher binder organization, you can definitely do that.
These Paperless Class Newsletters and Paperless Class Calendars are ideal digital resources because you can save any of the slides as an image or a PDF, and email it to families or publish the saved version to the web. Have families without internet? No problem. You can also print it and send it home to students. Just type your text into the template and save–done! Class Newsletters have never been so easy.
This Editable iPad Rules Freebie is the perfect lock screen for your class iPad(s). You can change the rules to fit your own needs or use the ones I wrote. There are a couple of ways to get this on the iPad. You can save the file as an image (File-Save As Pictures) and then save to iPhoto on the iPad (then save as lock screen from there), or you can even email the Powerpoint file to yourself and open it, scroll to the page you want to use and press with your finger until the save option pops up. I've also included directions for printing it as a poster if you want to keep it on the wall as a visual reminder or go over the rules before students have iPads in front of them. You can download it by signing up for my Free Resource Library below.
Digital Literacy Activities
I absolutely love these Digital Focus Walls for Reading and Writing because they don't take up any additional wall space and are interactive digital resources so you can do them with students. Plus, you can save the slide to use the next year if you want (one of my favorite teacher hacks). They each come with tons of moveable icons that make them easy to use and are a great addition even if you already have a literacy program in place.
These Digital Decodables were created to eliminate the need for printing, cutting, stapling, and storing your decodables (you absolutely can still print these, but you don't have to). They work great as a center, in small group, for intervention practice, and you can even send home a paper version so students can do another read at home to practice even more (decodables are meant to be read, read, and read again until the sound becomes easily decoded with fluency).
Digital Word Building is a game-changer. This is just like a word building mat, except you don't have to cut out any of the letter tiles and none of them can get lost. You can use this activity in a whole group setting with a projector, or you can use it with individual students on tablets or computers. The best part about this activity is that you decide what words you want your students focusing on. If you follow a reading program, this is the perfect addition for spelling and word work practice.
If you've ever had a pocket chart center, you know how much students love them. Yet, they can be a pain for you to prep and keep organized…and don't even get me started on losing the cards. Paperless Pocket Chart Phonics and Paperless Pocket Chart Writing are meant to keep that active engagement piece, while making it easier for you to manage.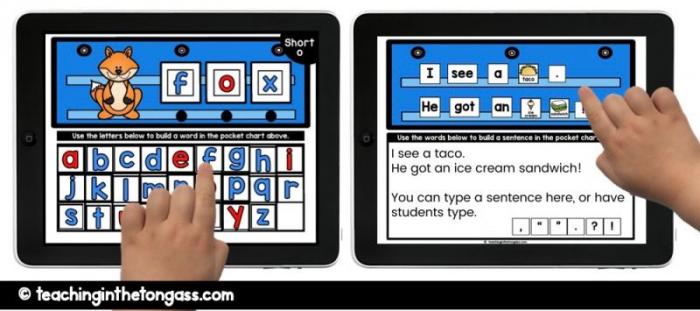 Digital Math Activities
Digital Calendar Math comes with all of the standard calendar math activities you do, from coin counting, to a fun little weather bear slide. It has 13 Calendar Math routines:
-Blank Monthly Calendars (to fill in as you go) with moveable events/holidays
-Yesterday/Today/Tomorrow (with moveable days of the week)
-Month/Season/Weather/Temperature
-Today's Number (hundreds, tens, ones with moveable popsicle sticks, red straws and base ten piece options)
-Today's Shape and Properties (with moveable 2d/3d shapes)
-Function (input/output table)
-Today's Pattern (moveable bears with A, B, C, D labels)
-Counting Coins (pennies, nickels, dimes, quarters)
-Telling Time (blank clock with moveable arrows)
-Hundreds Chart (editable so you can fill in/delete the numbers as you like)
-Number/Number Sentence
-Answer/Problem (open-ended question)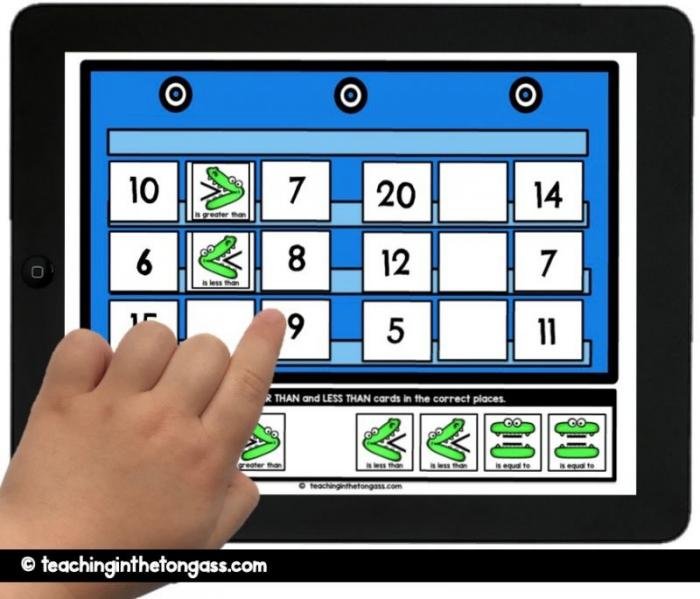 Digital Paperless Pocket Chart for Math is a fun and engaging way to practice and review a ton of different math concepts all the way from making ten, to hopping along a number line, to beginning multiplication and division. And like so many of the other digital activities, this can be used on a tablet, computer or in whole group on a projector screen.
So that's it! If you have any questions about any of these digital resource classroom activities or want to know more, feel free to leave a comment below.
Pin for later: