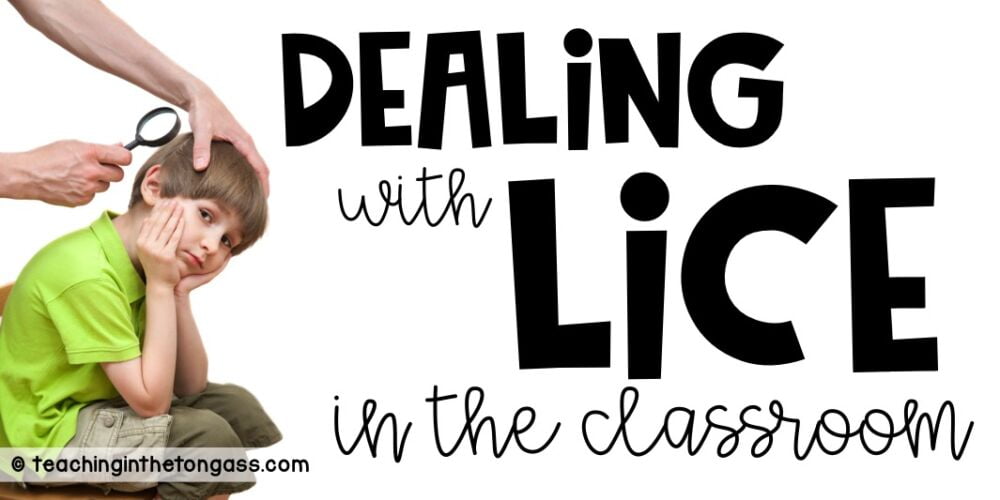 Lice in the classroom is every teacher's nightmare. If you teach, you know how stressful having a case of head lice can be. Heck, even in your neighbor teacher's classroom. Is your head itching yet?
First, I want to let you know that 1.) I am not a health professional. I am a teacher. This is simply my own experience and 2.) There are many controversies and thoughts regarding lice, so if you disagree with something in this post, please feel free to click elsewhere 😉 and finally 3.) If you have something to add that might be helpful for other teachers, please leave a comment at the bottom of this lice in the classroom post.
This may sound like a no-brainer to some people, but the first time my class had head-lice, I didn't even think about it. I just assumed that if a kid had lice, they would go home and have it treated and come back the next day. Simple, but not true. Not every school or school district policy on head lice is the same. Some allow students to stay (shocking to some of you, right?). Some schools allow students to stay, but only if they have nits and no live lice. Some have parents pick their children up right away at any sign of lice. Check your own school policy so you're informed (they might even have a required letter you have to send home like mine does). In fact, lice has been handled very differently every year I've taught. Some nurses came down and checked my whole class for lice with a giant, light up magnifying glass and gloves, while others basically told me to figure it out on my own (RUDE) and gave parents incorrect info on how to get rid of lice. Whatever you do, make sure you check what your school or district lice in the classroom policy is (especially for your own protection–you wouldn't want to be in the middle of a legal issue regarding head lice). Also, not all administrators even know the actual policy, so if your district has a website or someone you can actually call, I would do that first.
Also, this sounds like a no-brainer, but it can slip past some people so I feel like it's worth mentioning. Not only do you need to notify the family of the student who has head lice, but the rest of your class when you have lice in the classroom. This is because there is a good chance that other students also have it. So, a letter/email/phone call home is a good idea. It's also important to know that lots of families are misinformed about how people get lice and who can get it (lice doesn't discriminate–those buggers could care less about how fancy of a car you drive, what color your skin is, or whether or not you showered today). It's imperative that you educate families on 2 things: how lice is spread and how to get rid of it.
Just like adults, students need to be educated about lice. Obviously, this can be a sensitive issue, so you won't be pointing fingers at anyone. If you don't already own this book, Bugs in my Hair by David Shannon (yep, that's right!), I highly recommend it. It's a great way to introduce the topic of lice in the classroom to your class any time of year (I make it a point to read it at the beginning of the year as a preventative measure). If you don't know much about lice, I recommend spending a few minutes educating yourself (you wouldn't want to be giving incorrect information to your students/families, right?). One common myth is that lice can jump. They can't. This means that just because you are sitting near someone that has lice, you shouldn't be worried that one will jump across to your head. I of course wouldn't recommend rubbing heads together (or hugging for that matter), but that little fact can be helpful to know. Here is the website I trust regarding current and research proven information: CDC Head Lice
If you are like most teachers, you try to create a comfy, yet clean learning environment for your students. I get it. Me too. So, once you find out there is lice, shove any pillows, blankets, stuffed animals, etc. into a garbage bag for 2 weeks (your garage is a great place for lice to die). Lice in the classroom can't live for more than 2 days without food, but the recommendation is 2 weeks, so roll with it. And, for the sake of your own sanity, especially if lice doesn't seem to be going away throughout the year, I recommend getting rid of every fabric-covered item that isn't essential. As far as what parents are supposed to do at home, please, again, make sure they're educated or it will just be brought right back into your room (the cycle of having to deal with this over and over should be terrifying enough).
Now that you've taken care of the classroom and done your best to make sure your kids and their families know how to prevent it from spreading and treat it properly, make sure you don't have it! Ask your school health nurse, spouse, coworker, etc. and make sure they know what they're looking for (spare them a disgusting Google images slideshow and just save 1 photo to your phone to show them for reference). They should be looking for nits and lice. I keep a comb in my classroom just for this occasion (sad, right?). I'm pretty sure all of my family members have had the pleasure (haha) of checking my head whenever I feel a tad bit itchy (catch it when there's only 1 and you'll save yourself from a nightmare!). And if you have long enough hair to wear it in a ponytail/bun, start doing it immediately.
So that's it! I tried to break down my process and how I attempt to deal with lice in the classroom chaos, but if you have something helpful to add, please feel free to leave a comment!