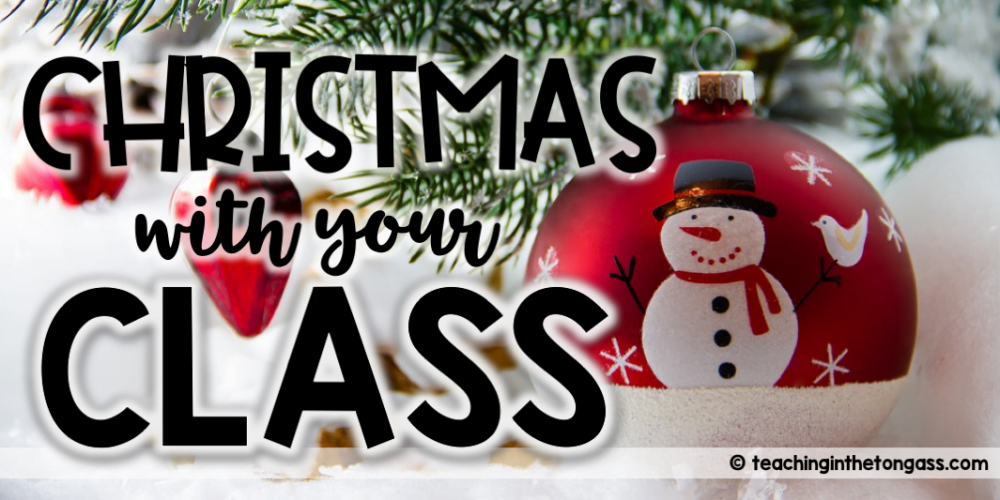 It's almost that time! I've rounded up some fun classroom Christmas activities and hope you can find some to use with your own class. Some of these activities are specific to Christmas, but many are really just winter activities, so if you aren't planning Christmas activities you may find something else you can use.
My favorite way to start off the week before Christmas is to have a Polar Express Pajama Party. I know, I know. I cringe at the word "party" like you probably just did. Keep reading. I call it a party, but really it's just watching a movie in pajamas. I really love this movie, and so do students (and not just because they get to watch a movie at school).
Before students get to school in the morning, you can set the stage with a crackling fire (this one from Netflix is my favorite, but you can find free ones on Youtube if you don't have Netflix) on your projector screen (or tv). Invite kids to wear their pjs and bring a sleeping bag or blanket. Let them spread all over by the "fire" while you finish setting up the hot cocoa (I can't be the only one that's always late with the setup, right?).
I like to get plain, white paper disposable cups with lids (you can find the ones I like here) and let the kids color their cup before they fill it. This helps them identify their cup later when they inevitably lose it…as for the cocoa, I avoid the Crockpot hot cocoa version and just use powder hot cocoa (in the tin or packets, whatever I have that year). See if you can scrounge up a few electric kettles or one of the big coffee dispenser pots (ask your admin–sometimes they're hidden in a closet you didn't know existed) and just fill it with water. When you're ready to make the cocoa, and you have an area for the kids to sit (cocoa plus laying down does not equal fun), pass out the hot cocoa packets and let kids open and dump the powder in. Then invite a few up at a time to add some hot water (about half way), stir with a spoon (if you give them spoons, they'll drink it like soup and you might pull your hair out like me) and then over to the sink (or use water bottles if you don't have a sink) to add a splash of cold water so they don't burn their tongues. This works a LOT better if you can have another adult running the cocoa station. After you're done dealing with hot chocolate, you can start the movie. As students are all finishing their cocoa, they can go and lay down in their spot to watch the movie.
Another fun way to have some holiday fun is to share these silly Reindeer names. Students giggle every time and it's adorable to see them laugh about it. I like to start out with my own silly name, just to show students that it's not really my new name, and just for fun and that it's perfectly okay to laugh at yourself. For instance, my first name is Jen and I was born in April, so that would mean my Reindeer Name would be Playful Sugar Plums. Cue the giggles. This is a fun little thing to do during snack time, and you can even send a copy home so students can figure out their family member Reindeer Names.
You can grab the Reindeer Names printable for FREE by signing up for my newsletter below:
This next idea really only works if you have snow. And believe it or not, living in Alaska does not always mean I have snow! Basically, you add some food coloring to a spray bottle, fill it with water…and well, that's it. Students will color spray the snow all day if you let them (it's mesmerizing or something). Let them build a snowman in a snow village, and spray it a rainbow of colors. Throw in a color mixing lesson if you want. If you have older students (2nd graders can do this), teach them how to add a few drops to the bottle and fill it up with water. This pack of four large spray bottles is cheap and they're pretty big so you don't need to keep refilling. Storing the bottles can be a bit of a nightmare (you can probably just toss them under the sink), so I recommend just having 4-8 bottles and letting students take turns.
If you're feeling super ambitious and aren't afraid of a little flour on the floor, Cookies in a Jar makes for a sweet parent gift! Essentially, you set up all of the ingredients on a table, provide a recipe and some measuring cups and spoons, and guide a student or two at a time to fill up a mason jar with cookie ingredients. Mason jars can be expensive, so I keep my eye out all year for when they're on sale (and if I see them at a garage sale or on a Facebook group for sale, I snatch them right up). You can ask for supply donations from your community, parents and even the grocery store (I recommend starting there) before spending your own money (it can get pretty expensive).
Once all of the jars are filled, lids are screwed on tight and the outside is wiped off, add the labels (I recommend these labels on and using a paper cutter). You can cut squares of fabric to put over the lids and hold the fabric on top/tie the tag on with a piece of elastic (this is waaaay easier than using ribbon that ends up falling off). I can vouch for the recipe…it's REALLY good! We even made these for our wedding parting gifts because we really loved the cookies.
You can grab the free Cookies in a Jar kit here.
One of my all time favorite things to do with my class is to take a class holiday photo. I print out letters that spell "Happy Holidays" and pass some gift bows out for them to stick on their heads and we pose for a cheesy holiday pic. You can add it to your newsletter, email to parents, or add it to the bottom of a thank you note (or all 3!). You can grab the free Holiday Photo Prop Letters here.
A cheaper and more personalized parent gift for Christmas is this adorable Directed Drawing Calendar (it also comes with writing pages in case you don't want to make a calendar). Students follow along with the step by step drawing examples for each month in pencil, then trace over with black sharpie or crayon, and finally color (I recommend using crayons). You can use staples or a binding machine if you have access to one (check with your school–it might be hidden in a cupboard by the copy machine). This is a great activity to complete when they are just coming in in the morning or after lunch…relaxing and quiet. The best part about this Christmas present for parents is that their child made it, and they can actually use it. It's editable, so you can even add text to the dates (birthdays, holidays, district days off, etc.) as well as their name to the top page.
You can find the Directed Drawing Calendar and Writing Pages here.
If you're really in the holiday spirit, you can have your students (or use with your own kids at home) write a Letter to Santa (and send it home so their family can keep it). This free set of printables includes a blank Santa letter template (perfect for those older kids), as well as the simple version with "I want, I need, I'll wear, I'll read" Santa letter prompts for a more condensed (and less toy-focused) approach to writing Santa. And in case you want to write back (ahem, or give to your friend, Santa Claus, to write back), I've also included a "From the Desk of Santa" blank template. Feel free to sprinkle some cookie crumbs on it after you're done writing…my kids loved inspecting the Santa crumb evidence last year. Just a reminder, keep it out of sight or you'll have some quick explaining to do. You can get the set of Santa letter templates here.
Another easy to do Christmas writing activity is this free Christmoose Craft. It's editable, so you can change the writing prompt to whatever you like. It also comes with a few different handwriting lines (primary and intermediate, half and whole pages). These color and cut crafts are my favorite because they take very little prep, students can easily do them, and they make replacing a bulletin board not so annoying. You can add even more of a "pop" to it with some colored paper (or double it with red and green). You can grab the Moose Christmas craft here.
Another Christmas activity you can do are holiday color by codes. These Christmas Coloring pages are editable, which means you can change the numbers in each area to whatever you want. You can even use them for literacy. If you've never done color by code, it's very easy to use and is NOT JUST COLORING. You can integrate what you are learning about on any of the pages. For instance, if you're working on word families with -at, -an, -ap, -ab, you can put those at the top (in the rectangles next to the crayons) and fill the blanks in the coloring area in with words that are in those word families (cat, hat, ran, tan, etc.). You can label them with anything from 5+2 to equivalent fractions, it's totally up to you what to have your students work on. That means you can use them with any grade you are working with (or if you end up teaching another grade next year!). You can find the Christmas Color by Code here.
If you use literacy or math centers in your classroom, you can easily incorporate a Christmas theme into those learning activities as well. This Santa Train center focuses on finding the missing addend with the help of a ten frame (the adorable Santa head mini erasers are from the Target dollar spot). You can also laminate them so they last longer and work with dry erase markers. This Christmas set of centers includes kid-friendly direction pages, 7 different Christmas Literacy Centers, and 7 different Christmas Math Centers and an editable Christmas Writing craft (a boy or girl elf craft).
You can find the Christmas Center Bundle here.
Another fun December activity you can do is a Christmas Escape Room! This Santa Escape Room adventure theme includes a cover (slip it in a binder to keep it together), Task Number Cards (for students to track which task they're on), Introduction story (setting the stage for going to the North Pole), Task Guides (little stories that introduce the task), 5 editable tasks (word search, strip puzzle, color by code, logic puzzle, mystery phrase), STEM activity (build the tallest Christmas tree with cup stacking challenge), and puzzle pieces (students receive a puzzle piece for each task they complete, then when they have all 5 the puzzle is put together to make a whole picture). These Escape Rooms are seriously so COOOOOOL. I love reading the feedback like this one from Sarah O.: "LOVE these! These are perfect for early release days close to break–fun and engaging, but easy to prep!" You can find the Christmas Escape Room here.
And last but not least, I have a list of my favorite Christmas books to read aloud. These Christmas books range from classics (this version of The Night Before Christmas has amazing illustrations from different perspectives), to absolutely silly (anything with underwear is going to be a hit), to beautiful and charming (Cynthia Rylant is the best at making students visualize!). You can click any of the books on the image below to check them out here.
Not ready for Christmas? Just pin for later: