If you don't already know this about me, I was born and raised in Alaska, and I still live here. My family came to Alaska during the Klondike Gold Rush and we've been here ever since! Ever since I was in 4th grade, I have been in love with the Iditarod. My 4th grade teachers taught an Iditarod unit that was so comprehensive, we even did an Iditarod relay in gym class. It was the unit of all units. THE Susan Butcher even visited our school (and her photo is still in the library where I went to school and my son now goes to school). For an Alaskan, that's the equivalent of Michael Jordan (we don't really have major league sports teams here–so many of us cheer on Iditarod mushers instead). So, needless to say, when I started my student teaching year (at that same school I went to), I designed an Iditarod unit. Just as I had imagined, I saw the excitement and thrill in my students faces and knew I had hit a teacher jackpot. A topic I could get them engaged with, all the while integrating literacy, math, science, technology, and art.
Iditarod Teaching Ideas
This sled dog racing unit contains a TON of activities and has an overall husky theme and would be a perfect addition to your own Iditarod or Alaska unit. It includes everything you see here in this post, including all kinds of craft activities, writing and math and literacy centers to choose from. Feel free to check it out here and read more about what is included in the description.
Kids ABSOLUTELY LOVE making these Iditarod crafts (a husky craft and a musher craft)!!! They seriously could not get enough! They writing prompt portion is editable, so you can type whatever writing prompt or title you want on the top. They are easy cut and paste crafts (also included is a girl musher, not shown), which means your students won't be wasting time tracing on construction paper and cutting and can focus on the writing instead (something your Admin will probably appreciate!). These make great bulletin board pieces to display everything from writing about a book we've read, to point of view writing or even poetry. I really appreciate how versatile they are so they can be used at any grade for really any topic.
I also have this printable dog sledding words handout (you can blow it up and print it on 4 pages to create a larger poster). This is an easy word wall for students to reference when writing. This anchor chart is particularly helpful when students are writing in their Adopt-a-dog Journals. They constantly reference the words on this page for spelling help, so I keep it up for the entire Iditarod unit.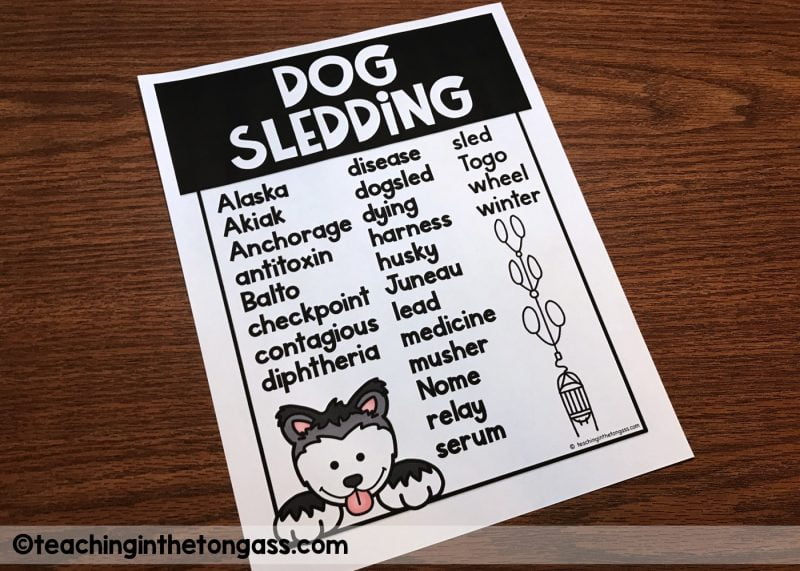 You can get the dog sledding printable word wall list free by signing up for my weekly newsletter below:
Another fun activity I like to do during our Iditarod unit is coloring.
Except, this isn't your grandma's coloring page. These coloring pages are purposeful. They are editable, which means you can add your own equations, sight words, etc. to them so they can easily be differentiated. Grab the editable husky coloring page here.
The Red Lantern Award is given to the last musher to cross the finish line in Nome, so of course, I had to have one to stress the importance of hard work and determination by awarding this one to a student that shows those same characteristics each day during our unit. You can get a red lantern for your own classroom here. I also brought in a pair of fleece dog booties to show the class what the dogs in the Iditarod wear to protect their feet from the ice! You can find the booties here. They loooved these 2 artifacts. Sometimes it's the smallest things that get them excited.
We begin our week by learning about the mushers that are in this year's race (I printed off their biographies). Students were responsible for writing about their musher and personalizing a mini musher to keep track of each day on the checkpoint bulletin board.
I keep all of the biography pages in clear page protectors in this binder for future reference as well.
Then, we colored Musher Trading Cards, added neat facts we found (think Pokemon power info, but mushers!) to the back of each card, and let the exchanges begin! I even made dog trading cards because they really got into the Adopt-a-Dog journaling and developing characters out of their dogs this year!
I like to included as much math and literacy as I can in every unit I write. This one is no exception! Here is a quick snapshot of some of the literacy and math centers.
And YOU HAVE GOT TO CHECK THIS OUT! A super sweet volunteer made this whole thing for us to hang up! You can't tell from the photo, but each of those flags are cut out construction paper, not printed from the internet! And the letters are all bordered with black and layered on top of yellow…it looks A-MAZING in real life. Trust me. I was speechless when I opened up the delivery! I promptly cut it out and laminated it so I could hug it all night hang it up in the hallway with our other Iditarod stuff.
I printed these bookmarks, laminated them and used pawprint ribbon from the local craft store to make them extra special and fun. You could use these as prizes, give them to students at the beginning of your Iditarod unit, or at the end of your unit as a "finisher" gift.
I've also compiled a list of Iditarod related books…these are some of my favorites. Click on any of the Iditarod books to see them on Amazon.
So that's it! I hope you and your class have a wonderful experience learning about the Iditarod this year and if you have any questions, feel free to comment!
Not ready for Iditarod? No worries! Pin for later: